One of the supposedly key witnesses in the trial of Michael Strickland was Benjamin Kerensa.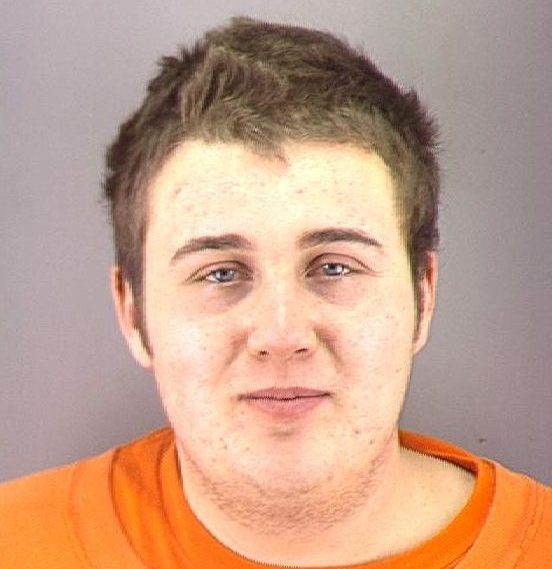 The multiple federal and state felon  was caught in several lies on the stand in his testimony as a 'victim' of Strickland's.
Strickland defended himself against the same kind of the violent "anti-fascist" "protesters" who shouted down and threatened violence against Ann Coulter and Milo Yiannopolous at Berkleley.
In Strickland's case, however,  the Black Bloc kindred in Portland succeeded in assaulting him once and were coming back to do it again at a Black Lives Matter/Don't Shoot PDX march and rally in Portland, Oregon on July 7, 2016.
Strickland is a videographer who records Portland events under the YouTube moniker "Laughing at Liberals." As I've explained previously, anarchists, protesters and the rest of them didn't like Strickland because he made them look stupid. Strickland's stories have made national news.
On that day last July, Strickland drew his weapon to stop a phalanx of black bloc outfitted protesters. He drew his weapon once. His finger was never on the trigger. His actions may have saved his life or, at the very least, great bodily injury. (Please see an explanation by police officers who have claimed that what Strickland did was legal and prudent.)
Police cited him on two misdemeanors and let him go after processing. But when the judge –whose daughter is a frequent protester (more on that in another post)– arraigned him a few days later, suddenly the assaulters became 'victims' and Strickland was charged with ten felonies and eleven misdemeanors. Strickland spent ten days in jail while friends struggled to come up with bond that would cover a now ridiculous $250,000.00 bail.
But back to our fluffy fabulist.
Kerensa testified to a conspiracy in court to throw Strickland out of the protest and I independently confirmed this. It might have been the only truthful thing he said on the stand.
Here are the whoppers Kerensa told on the stand:
He testified that he was not an anarchist, a provable lie.
He testified that he saw the videographer unholster his gun up to five times, a provable lie.
He testified he wanted Strickland thrown out of the event to protect 'the children,' a laughable lie.
He testified Strickland was a racist, a trope to, in his mind, justify violence against him, but is without evidence.
He testified he never harmed Strickland, a provable lie on Strickland's own video recording and first hand account.
He testified that Strickland looked "unstable" to justify his assaults.
One of the interesting things about the nearly 400 pound Kerensa is that he has an odd way of simply showing up and becoming part of stories.
After the incident last July, he gleefully bounded up to a friend and fellow anarchist who was recording the event to tell him that he made Strickland draw his weapon.
As I've recounted before, according to news accounts and court records, Kerensa did time in FEDERAL PRISON for making bomb threats to a former employer and to the tech confab known as Oracle World in the Bay Area. Thousands of people were forced to evacuate the event from Moscone Center.
Police say his former employer was a movie theater which had to be evacuated.
And Kerensa made the bomb threat phone calls from the offices of  man running for mayor of San Francisco where Kerensa 'volunteered.' Volunteers recalled in a news account that the rotund young man sat around, eating the free food and trolling the internet.  Sometimes he spent the night in the office.
Police called Kerensa an "anti establishment"  hacker. Authorities probably characterized him this way because of his attempted take over of a company called Nationhost and engaged in alleged fraud and other activities. From SF Gate:
"He has a background as a computer hacker and apparently was upset with the establishment as a whole," said police Inspector 
Rich Moses
. "He was taking it out on the establishment with these false threats."
Kerensa was charged Tuesday under a federal law against "maliciously conveying false information" through telephonic bomb threats.
Less than five years after that Oracle World federal prison stint,  Kerensa was out and slithered up to Oregon. He was caught in several counties in Oregon doing illegal activities over a period of time, but he then he settled in on making fraudulent phone calls again — sound familiar?
According to federal sentencing documents, Kerensa pretended to be "Special (FBI) Agent in Charge Richard Ellis." He called for a SWAT team to surround a Salem hospital and other illegal mischief that could have gotten someone killed. He particularly loved to make fake 911 calls.
He moved to Portland where at some point he got into the protest scene.
He got himself a nice camera and called himself a photographer.
Here's a recent photo of him at (what else) a protest in Portland in January 2018.
BUT WAIT, WAIT, WAIT.
CUE EDITOR'S NOTE:
EDITOR'S NOTE 3/24/18: THIS PHOTO TAKEN BY BEN KERENSA AND GIVEN TO THE OREGONIAN OF POLICE INVESTIGATING THE PIPE BOMB ODDLY WITNESSED BY PREVIOUS BOMB HOAXER BEN KERENSA HAS BEEN REMOVED AND REPLACED WITH THE SCREEN SHOT OF THE OREGONIAN STORY OF THE SAME INFORMATION. THIS HAS BEEN DONE AT THE BEHEST OF BEN KERENSA TO THE HOST OF THIS WEBSITE.
HERE'S THE REQUEST:
KERENSA CLAIMED THAT BY SHARING HIS PHOTO IN THE OREGONIAN AND ON HIS FLICKR PAGE THAT HE (ERRONEOUSLY) HELD THE RIGHTS.
Here's the Oregonian's explanation of the photo:
Members of the Metro bomb squad detonated a small improvised explosive device outside the Montavilla United Methodist Church, located at 232 Southeast 80th Avenue, Tuesday morning. The ATF and FBI, along with arson investigators with the Portland Fire Bureau, are investigating. Photos by Benjamin Kerensa
The man who went to prison for bomb threats and pretending to Special Agent in Charge Richard Ellis, suddenly became a witness at the discovery of a pipe bomb at a Portland church in 2013. The Oregonian reported:
A witness, Benjamin Kerensa, said an officer told him the device was a pipe bomb.
Kerensa said he saw agents with the U.S. Bureau of Alcohol, Tobacco, Firearms and Explosives and the FBI take away at least 10 bags of evidence from the scene.
Kerensa tried to remake himself as an open source hero and techie. He joined a "collective" of supposed open source acolytes and now fancies himself a tech blogger. He writes frequent comments on tech blogs in an attempt to assert his 'credentials.'
And it's in this capacity that a Portland newspaper quoted Kerensa — now identified as a "web developer" — as finding a problem in the state of Oregon's website. The Portland Tribune reported:
"For approximately a month, the state has been assessing the impact that an update would have on people with old web browsers. Benjamin Kerensa, a web developer in Portland, contacted the Department of Administrative Services Feb. 6 and told staff he had noticed encryption protocols were outdated. Richards said Kerensa's calls and emails caused the Department of Administrative Services to look into the issue, but it was also his understanding employees at the state data center were already aware of the outdated encryption on some websites and were working on a solution."
Imagine that, the hacker found a problem in 2015. I wonder if the State of Oregon hired him to fix it?
Kerensa's wild stories and fabulist psychological issues could put a man in prison.
Michael Strickland will be sentenced tomorrow for defending himself against this very, very dangerous man.