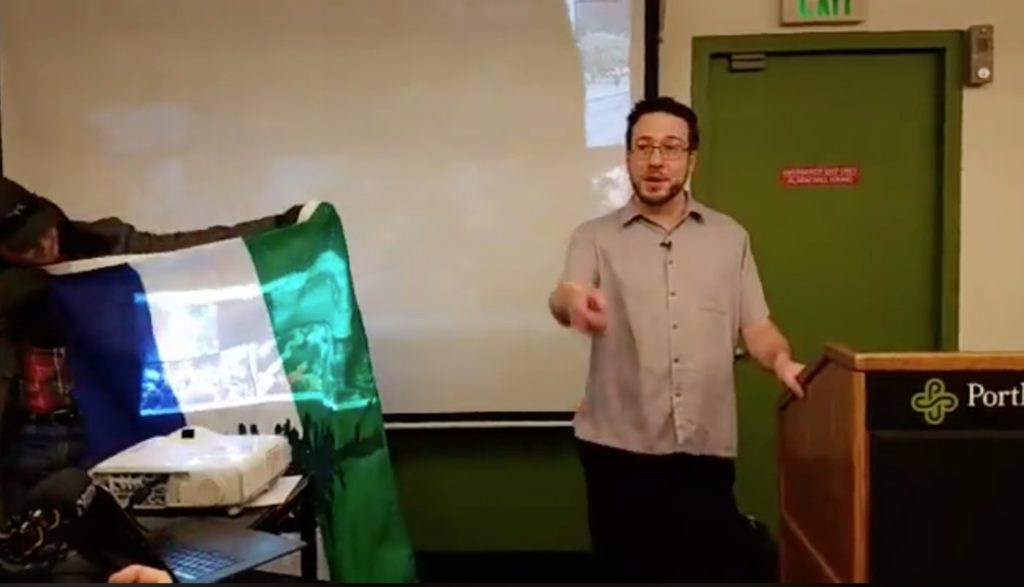 This post has been updated to indicate that Portland State Police did *not* escort out the Antifa/Anarchist free speech disruptors.
Before Ann Coulter, Milo and Ben Shapiro were met by the fire bombing mobs who would later become widely known as Antifa, there was Mike Strickland. In 2016, Strickland was arrested, charged and convicted in Portland for drawing his legally concealed weapon to stop a phalanx of Antifa protesters who conspired to beat the citizen journalist out of their Don't Shoot Portland/Black Lives Matter protest in downtown. No shots were fired. No one was hurt.
As a result of the widely publicized incident, Portland State University and Portland Community College campuses banned Strickland for two years.
As I wrote this week, there was a simple reason why banning him was irresistible:
Though the incident didn't occur near any of the campuses, Strickland was well known by campus administrators for reporting on the speeches, marches and antics of the University professors and protesters. Protesters included the Occupy, Antifa, IWW (Wobblies) and ISO, as well as the usual Portland Professional Protesters, Incorporated™ social justice, environmentalist, anti-Israel groups. Strickland's reports on those campuses made national news. University and College administrators saw an opportunity to keep their well known antagonist off campus and took it.

VictoriaTaft.com
Tuesday night, Strickland was back on campus in front of a group of College Republicans, live streaming cameras and citizens and tried to tell his compelling story (read many of my stories here). However, some Portland area Anarchist/Antifa antagonists were also there and had different plans.
Strickland was shouted off the stage several times by a man interrupting the speech with wild rantings, screaming and using the new anti-free speech weapon of the moment … a cowbell.
Strickland, Laughing at Liberals on YouTube, posted this video of the dingle dangler:
He dingle dangled his bell and spoke over Strickland, who kept a smile on his face for the 68 minutes it took cops to get rid of them. More on that in a minute.
The agent provocateur identified himself as "Sawyer" and silenced his cowbell only long enough to stand in front of Strickland's projector, preventing the citizen journalist from showing video and supporting documents about his case.
The last time we saw "Sawyer" he was heckling a bunch of men with the Proud Boys in downtown Portland and one of his fellow Antifa mates got hit by a truck. Notice that "Sawyer" never stops talking into his megaphone:
This is Sawyer's co-conspirator. Austin Goodrich is well known to some area folks for all the wrong reasons. This apparent Bernie Bro has allegedly harassed, stalked and threatened people in Hillsboro who displayed Trump for President signs in 2016.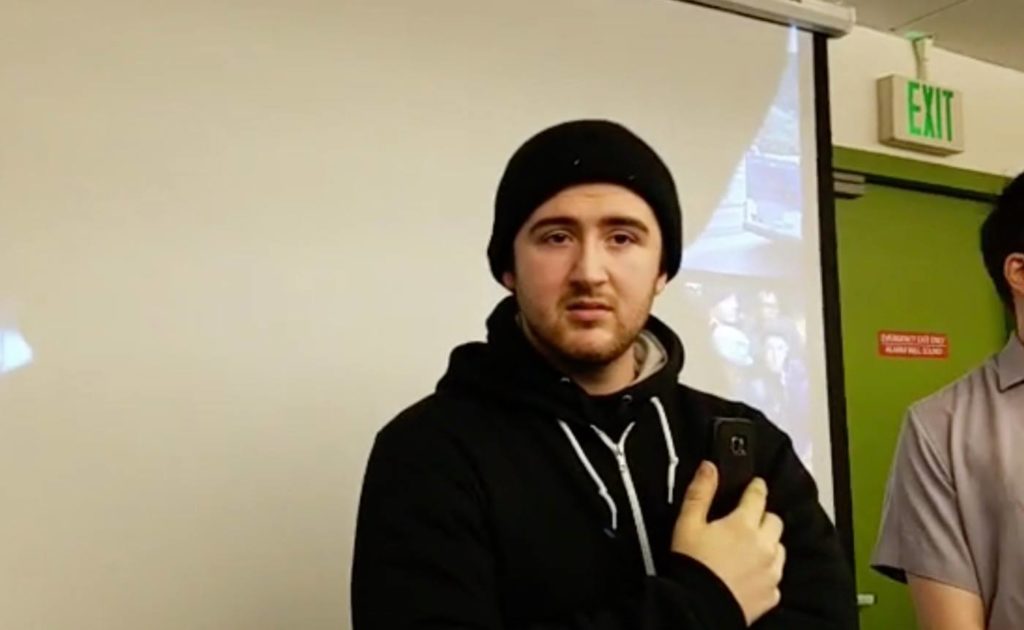 He was back Tuesday night to apparently harass and intimidate Strickland and people there supporting him, such as 83-year-old Kay Bridges who is herself a citizen journalist and was live streaming the event on Facebook. View her video here:
When asked who the two main antagonizers were, this is what several said about Goodrich:
Austin later remarked over on my Facebook page that he wasn't an Antifa member and scoffed at being called a Bernie Bro. Here's Austin's Facebook page:
"Creating action." "Family First." Gee, he seemed like such a nice guy I thought I'd ask him for a quote:
Those watching the spectacle saw the dramatic difference between the 'protesters' and the behavior of the man Antifa and company have lied about for going on three years, Mike Strickland.
Randi commented:
"What a contrast between calm, cool, collected, courteous Mike Strickland, and a room full of out of control motor mouth kooks, with nothing better to do than shut down Mike's privilege to speak."
Katie said:
"If this is how they act when law enforcement was around, then we know how they acted when they surrounded and attacked you. They really are afraid of what Mike may have to say."
Another said:
"To bypass the one-man cowbell choir, Mike's presentation begins at about 68:00 minutes into this video due to the Breach of Peace."
Edwin wrote:
"I wish people would remember this. This is America. Every citizen has the right of free speech. Even if you don't like or agree with what that person is saying. They have the right to free speech. And yes even hate speech is free speech."
Lauri said:
"The first 45 minutes were the most telling I don't know how Michael put up with all of that hate. The haters rang bell's and screamed at him and talked over him and put them selves between him and the projector to make it impossible for him to give this lecture"
And Jack had an excellent question:
"Why the hell are the cops just standing there like zombies?"
Why the hell, indeed.
A real head scratcher, this.
As the cowbell and scream fest continued. Strickland was banished to the back of the room since he couldn't speak over Antifa's noise. But they found him and surrounded him again.
(The young woman (pictured above) claims to have been a reporter from the student newspaper, "The Vanguard," but you wouldn't know it from her behavior. She spoke over Strickland, clearly sided with Antifa protesters and treated Strickland with obvious disdain. She'll be with the Washington Post any day now.)
The spectacle was all in view of the PSU cops.
Strickland told VictoriaTaft.com that he spoke with Sgt. Halliburton (pictured above) and asked him at what point would they consider the situation disorderly conduct and he replied, "I'll decide when."
For the attorneys in the audience, that was the wrong answer.
Jason Short, one of Strickland's attorneys during his first trial and who was watching the livestream of the event, opined that it looked like disorderly conduct, but conceded college cops in Portland were unlikely to do anything.
James Buchal, attorney and the head of the Multnomah County Republican Party suggested to VictoriaTaft.com that it might have been Disorderly Conduct by the cowbell ringing pair:
1)A person commits the crime of disorderly conduct in the second degree if, with intent to cause public inconvenience, annoyance or alarm, or recklessly creating a risk thereof, the person:


(a)Engages in fighting or in violent, tumultuous or threatening behavior;


(b)Makes unreasonable noise;


(c)Disturbs any lawful assembly of persons without lawful authority;"
We have a winner!
Police escorted the duo out of the room only after Strickland implored them to do so saying he wanted to file a complaint.
After talking with the officers on site, the Antifa/Anarchist disruptors, including Cow Bell Boy, left.
That [Writing a report] apparently sounded like too much work for the officers and they escorted the two out of the room. No report was taken that VictoriaTaft.com was aware of as of publication.
Strickland was able to continue with his speech, but not before Antifa's antics had burned up most of the College Republicans reserved time in the room.
Mission Accomplished.
Strickland's case is under appeal at the Oregon Court of Appeals. A decision on his case is expected any time.
Strickland's Defense Fund has been set up by Oregon Firearms Federation. Please give generously here.