Portland Mayor Ted Wheeler should condemn what happened to a man in a Portland bar a week ago Friday. However, the 'leader' who has given Antifa a pass while condemning 'right wing' protesters with a full blown civic gaslighting, is unlikely to do so.
KPTV and Gateway Pundit report that Luke Lenzner was on a date night with his wife and walked into Growler's Taproom on SE Hawthorne inner SE Portland in the early hours of August 17th. The bartender told him they weren't serving anymore so Lezner left. As he did so, surveillance tape shows he pointed to his hat.
Apparently, that red hat was just too much for Portland Professional Protesters™ who met Lezner out on the side walk, "circled him," attacked him and then cold cocked him.
Lezner told KPTV:
"I got mobbed by everybody that was in that bar outside. People came from the inside out – just circled me and my wife."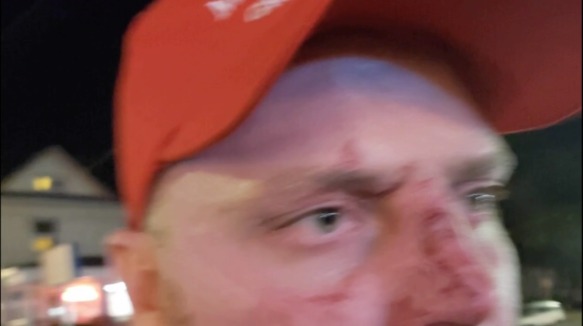 They surrounded him like jackals:
"Surrounding me, like literally surrounding me, pushing me. I'm just trying to get through, trying to stop the person from hitting me, from taking my hat, and then I get sucker punched," Lenzner told FOX 12.
The two arrested are no strangers to Portland police, either.
The two perps, 22-year-old Leopold A. Hauser and 23-year-old Adebisi A. Okuneye, were hunted by police after Lezner gave him their license plate number.
The cops know Hauser from a 2018 scrape with the law involving an Antifa riot and Okuneye was last arrested in another Portland protest in 2017 involving Black Lives Matter and Antifa.
It makes you wonder a few things.
Is Portland safe for Republicans or Trump supporters anymore? Portland's
Can a guy with a Trump hat even get a beer in this town anymore without getting beaten up by Antifa?
As he told the gathering before the planned Proud Boy, Patriot Prayer march August 17th, "violence is not a civil right."
As I proposed last March, Antifa isn't anti-'fascist,' the group is anti-First Amendment.
Wheeler would do well to remember that his demonized 'right wingers,' once again, had nothing to do with this act of violence and the violence that occurred had to do with a man wearing a hat – an act protected by the First Amendment.
Leftist leadership allowed this bigoted institutionalized balkanization. This is what you call institutionalized bigotry.
Now, what are you going to do about it, Mr. Mayor? If past is prologue, the answer to that question is … nothing.