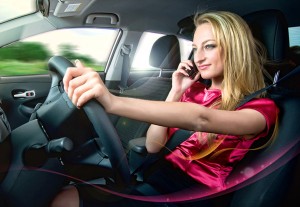 Carnegie Mellon/London School of Economics study confirms cell phone chatting and driving don't increase chances of car accidents, unless you're a moron, that is.
Researchers say they're surprised by the results of their own study of U.S. data which shows there's no correlation between chatting away on cell phones and driving.
It's easy to be surprised. For years, politicians and safety advocates have demonized cell phone use while driving. While most studies have never born this out on a macro level, it's easy to sell the idea since we all have had an experience with a 'whoops' while  using a cell phone or can understand that talking on a cell phone might take your attention away from the road. We read the headlines all the time about somebody chatting away happily and then boom! They're flattened by the train.  
Wanting to DO something about it is understandable. And politicians have taken the low hanging fruit bait and acted accordingly. Cell phone use in cars has been the target of campaigns, not only by state lawmakers, who see  it as a reputation-maker in legislatures, but by the Obama Department of Transportation. Once again, however, the politicians' actions don't match the data. From Geekosystem.com,
The researchers at Carnegie Mellon University and the London School of Economics, led by Professor Saurabh Bhargava and Dr. Vikram Pathania, published their findings in the American Economic Journal, in an article called "Driving under the (Cellular) Influence." They focused on data from the United States between 2001 and 2005, a time when the number of cellular phones was rapidly rising. In addition, phone companies often offered free calls at night after 9:00PM in this time period, meaning that the researchers could identify a time when people were more likely to be using cell phones. This would have also been before handheld phone use was banned by laws and hands-free was more common.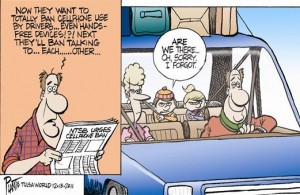 The study looked only at talking on cell phones, not texting. But that's where the effort to ban phone use while driving began. Efforts to reach into the cockpits of cars to dictate behavior, of course, began with the demonization of talking on cell phones, banning teenage use and then banning everyone else.  Studies show there's no difference between holding a phone to your ear and a hands free device, usually the politicians' default "fix" to their bans.
Researchers add that this study doesn't answer all the questions out there on cell phones and driving. From Geekosystem.com,
This doesn't automatically prove that cell phones don't cause accidents. Aside from the fact that they didn't look at texting or internet use, which are more attention-intensive than holding a phone to your ear, other factors may have led to this result. Driving on the road after 9 might not be the most risky time to use a phone. In the time period the data came from, cell phones weren't as ubiquitous, so it may have been that the earlier adopters were more responsible and safer drivers on average. Dr. Panathia told the BBC, "It may look different if you focus on young males or new drivers," and that "Rash drivers will always find a way to distract themselves."
Find the study here at the Journal of the American Economic Association. It is behind a pay wall so be ready with your credit card. Meantime, here's the abstract of the study,
Bhargava, Saurabh, and Vikram S. Pathania. 2013. "Driving under the (Cellular) Influence"American Economic Journal: Economic Policy, 5(3): 92-125. DOI: 10.1257/pol.5.3.92 Abstract   We investigate the causal link between driver cell phone use and crash rates by exploiting a natural experiment induced by the 9 pm price discontinuity that characterizes a majority of recent cellular plans. We first document a 7.2 percent jump in driver call likelihood at the 9 pm threshold. Using a prior period as a comparison, we next document no corresponding change in the relative crash rate. Our estimates imply an upper bound in the crash risk odds ratio of 3.0, which rejects the 4.3 asserted by Redelmeier and Tibshirani (1997). Additional panel analyses of cell phone ownership and cellular bans confirm our result.